The KindredCOLORS CDs and binder have been used by a range of schools and churches, as well as for private study.

The KindredCOLORS Exhibit has appeared at a variety of multicultural events, social service affairs, arts community open houses, conferences, lectures, churches, and schools (elementary through college, city and suburban), and more.
Here are a few of the venues:
---
WorldFest 2006 at The Boston Conservatory


This annual event celebrates and exhibits the rich cultural diversity among the students, faculty, and staff at The Boston Conservatory in Boston MA (www.bostonconservatory.edu).

On February 10, 2006, the KindredCOLORS Exhibit was proud to join the festivities with musicians from Bulgaria, Japan, Israel, Dominican Republic, South Korea, Lithuania, Poland, China, Macedonia, Taiwan, Romania, and Ireland. Their performances were followed by an amazing international dinner and then tireless dancing to the live beat of salsa band Curubande.
---
First Night in Boston MA, December 31st

For decades, Boston MA has celebrated the day of New Years Eve with a citywide celebration and participation of its cultural and artistic diversity. Noticing what a wonderful event this has become for Boston's artists, citizens of all ages, and tourists, many other cities across the USA have copied this event, which is called First Night.

For December 31, 2005 the KindredCOLORS Exhibit was invited to join the very important and effective groups PlanUSA, WorldBoston, and the United Nations Association of Greater Boston in a special room called Global Youth Connections.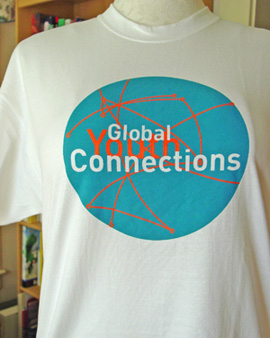 KindredCOLORS was the first exhibit encountered as First Nighters entered the room. We served as a warm-up or mood-setter for the other wonderful displays and activities in the room: marvelous paintings of what-peace-would-look-like by youth from all over the world, materials for all ages to make peace flags, a live student panel discussion about world problems and possibilities, and the chance to send emails to the leaders of our state and nation — with hopes and ideas for 2006.
Here are a few photos of some of the people of all ages and backgrounds who experienced KindredCOLORS. They were taken by Rosemary Fortin.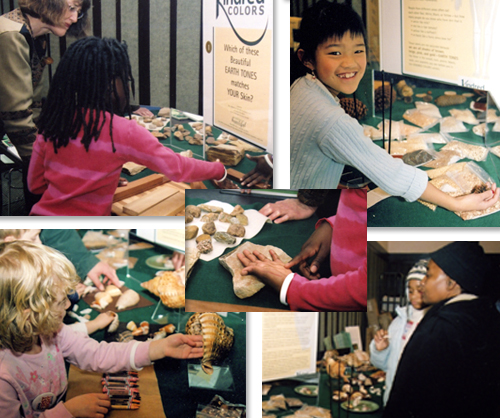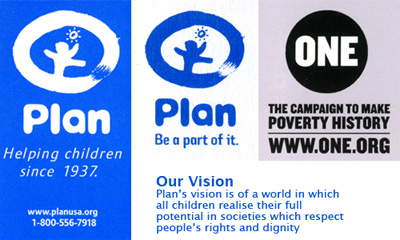 ---

United Nations Day at the Massachusetts State House, October 24th


The KindredCOLORS Exhibit has proudly joined other participating organizations in the annual United Nations Day Ceremony at the State House in Boston MA. This event is sponsored every October 24th by the United Nations Association of Greater Boston.

The UNA-GB fosters productive United States involvement and dialogue on the broad agenda of critical global issues addressed by the UN and its agencies. Such concerns include peacekeeping, human rights, humanitarian relief, economic development, and education.

One of nearly 200 chapters of the United Nations Association of the USA, UNA-GB is a bipartisan, grassroots organization that hosts educational and public discussions, presentations, and conferences, as well as a school curriculum that includes units on negotiation, communication, research, and non-violent conflict resolution.

Membership in the UNA and the UNA-GB is open to everyone
(www.unagb.org).
---
International Women's Day at Simmons College, Boston MA, March 8th

Since 1911 the global observance of International Women's Day (IWD) on March 8th has enabled solidarity and support that has motivated the social, political, and economic progress of women locally and globally — in their homes, workplaces, and communities.

On that day throughout the globe and at the United Nations, men and women attend conferences, rallies, parades, and even send flowers and candy to acknowledge those who have made significant contributions to the advancement of women's lives (and therefore the betterment of all society), and to mobilize and activate collective determination to work for a a fairer future with peace and well-being for everyone.
The IWD was mostly unknown in the USA until 2017. But meaning, power, camaraderie, and fun of IWD were stated, promoted, and celebrated nationwide that year with such enthusiasm and conviction that IWD will probably become an annual day of honor and reckoning in the USA too.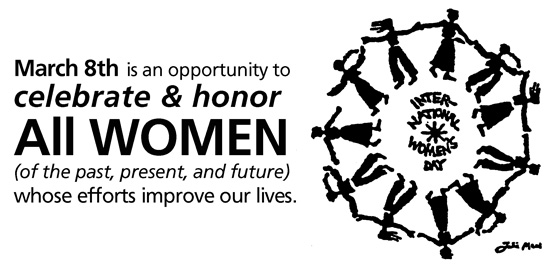 ---

Additional activities have included or will include the following:
The use of KindredCOLORS materials in a college English as a Second Language (ESL) course.
Exploration of the Beauty Exercise and Experience in a Montessori School.
The St. James Church in Porter Square, Cambridge MA used the KindredCOLORS curriculum for a church retreat over Memorial Day weekend. That in depth study was preceded by a Sunday Service featuring the KindredColors Exhibit and an inter-active speech about it.
Work with violence-prevention and conflict-resolution initiatives in Boston MA, as well as community gatherings for all ages.
The KindredCOLORS Exhibit will be featured at the Strategy Release Event in April 2017 by the Boston Mayor's Office for Resilience and Racial Equity.
Accounts of more activities will be added to this page - so please visit it again.
---
™This EisB logo is a shortened version of our declaration that Everyone is Beautiful