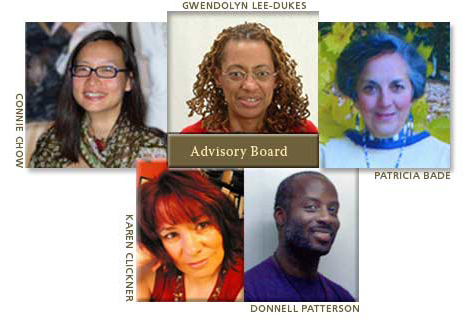 KindredCOLORS Advisory Board

Patricia S. Bade, known as "Keeper of the Spirit" and "The Owl Woman", is a storyteller whose ancestors are Scotch/Irish and Penobscot (Native Americans in what is now called northern Maine). Her presentations for adults and children center on teachings about our connectedness to Mother Earth and "all our relations". Raised in rural Maine, Pat has a passion for wildlife and the woods, drumming, singing in native tongue, and working with children and animals. A retired elementary school teacher of 25 years, she has received both the Kennedy Library Award for Teaching, and The Massachusetts Audubon Teacher of the Year Award. Pat holds a B.S. in Education and American History from Salem State College, and after continuing her education at Oklahoma State University she became an ordained minister in 1997 to the Congregational Bible Church/Native American Church. The mother of two and grandmother of five, she now devotes much of her time to rehabilitating injured hawks and owls in Hamilton MA where she currently resides with her soulmate of 36 years.


Connie Chow is an Assistant Professor of Biology at Simmons College in Boston MA where she teaches microbiology and general biology. As a member of the Honors program faculty, she uses a case-based approach to put first-year biology courses in context, and also teaches an interdisciplinary HIV/AIDS course. Dr. Chow obtained her Ph.D. through the Program in Virology in the Division of Medical Sciences at Harvard University. She is currently pursuing her postdoctoral research at the Harvard School of Public Health. She is the Co-Principal Investigator of a National Science Foundation funded program which targets middle school girls and boys in urban schools and helps break down barriers to entry into professions in science and technology. Dr. Chow is engaged in promoting women's rights and human rights in both the USA and Afghanistan through Amnesty International. She is the co-founder of the Massachusetts CEDAW* Project (*the UN's Convention on the Elimination of All Forms of Discrimination Against Women), a research and action collaborative that seeks to bring international human rights standards into local contexts.


Karen Clickner served as a primary advisor for the development of the "Everyone is Beautiful" CDs and Book. Trained in the USA, Spain, and Australia, Karen is A Naturopath, as well as licensed in Massage, Myofascial, Neuromuscular, Nutrition, Colon, and Practical Herbal Therapies. She has taught throughout the USA and Europe, and was "The Herbal Advisor" which aired on BBC Radio in London and Geneva, discussing herbal options for illness. Karen's articles have been featured in various publications including AMTA Journals. Her latest projects include her personalized treatment approach known as Whole Body Therapy and a book of philosophy and therapy for the body to be published in 2006. Karen is the owner of Conscious Body Natural Medicine, a holistic clinic in both Brookline MA and Holden MA.



Gwendolyn Lee-Dukes received her Medical Degree from the University of Kansas and has been Board Certified in both Adult as well Child and Adolescent Psychiatry for over 17 years. She is licensed in Texas and Kansas and a member of the American Academy of Child and Adolescent Psychiatry as well as the Harris County Medical Society. Dr. Lee-Dukes has held a variety of clinical positions including Staff Psychiatrist for the Daybreak Community Health Center in Houston TX (where she provided psychiatric services to the homeless and to children of drug addicted parents); Staff Psychiatrist for Krause Children's Residential Treatment Center in Katy TX (providing care for youngsters ages 12-17 years; and Medical Director for other managed care organizations in Tampa FL and Houston TX. She is currently Medical Director of the Houston office of APS Healthcare, INC where she oversees the quality initiatives of their Texas-based clients. Her tasks include spearheading a Best Clinical Practice initiative on the treatment of Adolescents with serious mental health disorders (depression), and handling second level retrospective reviews for APS's various service centers throughout the USA. In addition, Dr. Lee-Dukes is a Staff Psychiatrist at the University of Houston's Student Health Center where she provides psychiatric evaluations, therapy, and medication management for students. She has held a variety of teaching positions and is currently a Clincal Assistant Professor in Psychiatry for the University of Texas's Health Science Center at Houston as well as the Medical Branch in Galveston TX.


Donnell La Roque Patterson is the Program Director of the Roland Hayes School of Music, a public performing arts (music) school located in Boston's Roxbury, Massachusetts. (Students from the Roland Hayes School are featured as speakers, artists, writers, and consultants in the "Everyone is Beautiful" CDs and Book.) Mr. Patterson is a lecturer in music, faculty of Arts and Sciences at Tufts University, where he is also Director of the Tufts University Third Day Gospel Choir. In addition, he is the Director of Music and organist at the St. Paul AME Church in Cambridge MA, is the music accompanist for the Cambridge Community Chorus, and a performer in the professional gospel ensemble Patterson Chorale. From 1982-2002, Mr. Patterson was an elementary and high school music educator in the Cambridge MA Public Schools, where he also served as Acting Assistant Director of Music. Mr. Patterson earned his music degrees from the New England Conservatory (piano) and the University of South Florida (choral conducting), with postgraduate work in music education and administration at Florida State University. He received a second masters degree in Technology in Education from Harvard University and is currently pursuing a doctorate at Lesley University in Educational Studies.
---
Founding Director of KindredCOLORS
Cynthia Price-Glynn grew up in Wichita Kansas. She has a BA from Pomona College (visual arts), BM from University of Kansas (harp performance), and an MM from New England Conservatory (harp performance). For many years she was a freelance musician in Boston playing in all the major orchestras and musical theaters, and for touring Broadway shows and dance companies. She has been Principal and Solo Harpist with Boston Ballet since 1976, and since 1986 on the faculty of The Boston Conservatory, teaching harp, chamber music, pedagogy, and career skills. Her recordings include the award-winning "Lullabies" and "Musical Backgrounds", two CDs with the highly acclaimed Latin American ensemble ANDANZAS, and three CDs with the Boston Ballet Orchestra. Beginning in the late 1980s, Cynthia researched, wrote, directed, and produced audio-programs which have been supported by The American Truths Foundation, Inc. since 2002. Her collaborators for the albums on history and human rights include the New England Native American Institute and the United Nations Association of Greater Boston (see www.americantruths.com). As Founding Director of the GentleMUSES (www.gentlemuses.org), she coordinates a consortium of harpists who play therapeutic music at Massachusetts General Hospital in Boston, in partnership with The Boston Conservatory. Cynthia collaborated with the Roland Hayes School of Music (a Boston public high school) for the "Everyone is Beautiful" CDs and Book that complement her KindredCOLORS Exhibit (www.kindredcolors.org).
---
™This EisB logo is a shortened version of our declaration that Everyone is Beautiful